Introducing the Most Energy-Efficient Swimming Pool Lighting Available
IntelliBrite® 5g automated color-changing pool lights and IntelliBrite® 5g spa lights feature LED technology—the wave of the future in energy efficiency, lifetime value, quality of light and the ability to control it.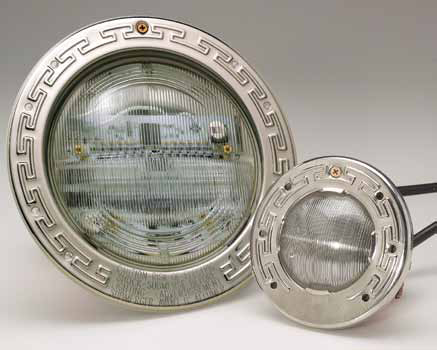 With IntelliBrite 5g, combinations of individual colored LEDs are mixed and matched to achieve a vibrant spectrum of colors. These combinations are power sequenced to illuminate and cycle through colors at varying speeds, and in different sequences of color. Combined with a custom reflector and innovative lens design, the IntelliBrite 5g is the brightest and most efficient underwater LED light available.
• Enjoy the even distribution of the brightest, yet most energy-efficient LED light on the market, made possible by a custom reflector and superior lens geometry designed to eliminate glare and "hot spots" on the pool bottom.
• A superior reflector design assures more light is directed toward the pool bottom to further increase intensity and color effects, while minimizing glare.
• Only IntelliBrite was designed to work with IntelliTouch® and EasyTouch®, the leading control systems for pool, spa and poolscape equipment automation. In effect, you transfer programming and control of IntelliBrite to the central system that controls all your other pool and backyard features.
• IntelliBrite 5g pool and spa lights use 82% less energy than traditional halogen and incandescent lights, and half as much as competing LEDs.
• UL listed when installed in Pentair Water Pool and Spa® ("Pentair") niches.