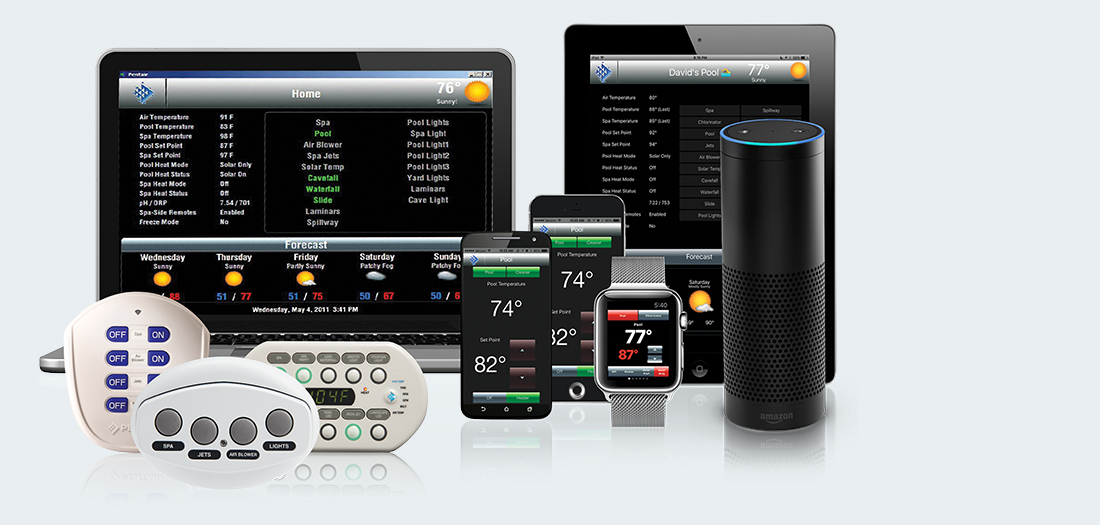 Advanced Automation Systems for Pools and Spas
IntelliTouch automation offers superior control systems from simplest to the most ambitious pool and spa designs, including water features and spectacular lighting effects. IntelliTouch systems offer innovative technology and a wide range of wireless and wired control panels that are easy to program with simple menus.
Easy Operation
An IntelliTouch control system takes the work out of scheduling and operating pool and spa heating, filtration and cleaning cycles. It also gives you one-touch control over additional features. Plus, an IntelliTouch system makes sure all your equipment operates at peak efficiency for minimum energy usage and cost.
Cost-Saving Control
Pinpoint control over equipment operating schedules saves money. Plus, you can take advantage of off-peak electrical rates, when available. And, by only running equipment and accessories as much as needed to keep your pool and/or spa in top condition, you prolong the life of your equipment. IntelliTouch also lets you control money-saving variable speed pumps and solar heating systems.
Flexible Control Options
IntelliTouch systems offer a number of individual and multiple wired and wireless control devices for the ultimate in freedom and flexibility. Plus, you can use a MobileTouch® Wireless Controller or add an optional ScreenLogic Interface to access your pool remotely using many popular mobile digital devices.
Protect Your Investment
IntelliTouch systems sense conditions that could hamper operation and alert you to these situations or take automatic corrective action. It will also tell you when service is needed.
Customize Control With Personality Kits
You select one of IntelliTouch's Personality Kits based on whether you want to control a separate pool or spa, a pool/spa combination with shared equipment or a pool/spa combination with separate equipment. Your Personality Kit determines the type and number of equipment and accessories you will control.