Scrubs, vacuums and filters your entire pool
The fastest and most effective robotic cleaner in its class, the Kreepy Krauly® Prowler® 710 features true "plug and play" convenience. It operates totally independently of your pool's circulation system to cover and clean any dimension, form or shape of inground pool up to 50 feet in length. A Jet Drive propulsion system with a single, powerful motor drives the cleaner and enables total pool cleaning from floor to water line.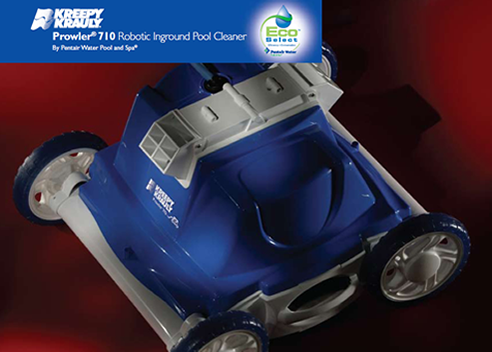 Features
• Dual pressure wash jets lift sand, silt and algae off floors and walls—including surface pores where brushes can't reach.
• Powerful vacuum action removes fine particles and larger debris.
• Internal filtration system removes contaminants and bacteria as small as two microns.
• No installation, no booster pump, no hoses and fully automatic. What could be easier?