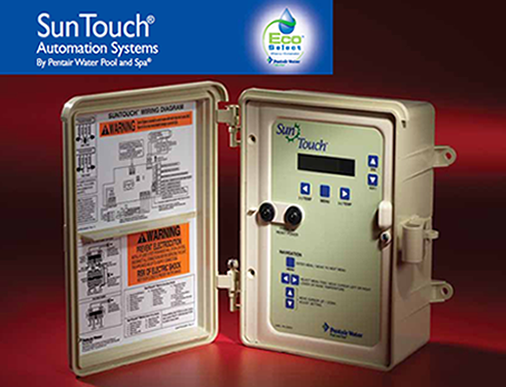 Simple and economical control of pool and spa heating and filtration
Make the most of the sun's energy with the SunTouch® Solar automation system. Simply set the digitally-controlled thermostat at a comfortable temperature, and SunTouch Solar will monitor the temperature of your solar collectors
and your pool. Whenever the sun offers sufficient energy for effective heating, SunTouch Solar controls a motorized valve, sending filtered water to the collectors. Should clouds or wind reduce ambient temperatures, the system shuts the valve to prevent cool water from entering the pool. You'll never have to worry again about turning your solar system on or off.
•One-touch function control—no complicated routines to memorize.
•Temperature control can be set in 1 degree increments.
•Motorized valve regulator is rugged and waterproof.
•Unique Solar Valve with Teflon® seal for years of maintenance-free operation.
Additional options include:
Pool cleaner pump protection- prevents damage to your pool cleaner pump that can result from air in the solar collector at start-up.(Requires additional relay kit.)
Solar booster pump- an economical solution for systems that require extra flow to achieve top performance.(Activated only when solar energy is available.)